Best Bounce Houses Raceland Kids AND Parents Enjoy!
Becoming the #1 supplier of
bounce houses Raceland
can't get enough of has been easy for us because of how much we care about the success of your party. Family events are some of life's greatest moments and Crazy Town Inflatables is the area's go-to company to make your upcoming celebration extra special. As a locally owned and operated company, we strive to be the best and we will exceed all of your expectations with our stellar equipment and unparalleled customer support.
We have been putting the fun into family functions with our bounce houses Raceland loves for many years and we're certain we have the perfect selection to help take your upcoming party to the next level. We love seeing the smiling faces of the little ones when they see our colorful bouncers at the party. We're happy to offer delivery to
Raceland, Louisiana
, and the surrounding areas of Lafourche Parish. Let our years of experience throwing fabulous events go to work for you. We'll handle the entertainment so you can focus on having just as much fun as your guests!
We take the needs of our customers seriously and will work with you to get the best bounce houses Raceland has to offer to your event on time and at the best price. Our trained team is professional and courteous and our company is fully insured and licensed, so you can depend on us to help you get the party started! Call to reserve yours today at (985) 232-3691 or use our secure and convenient online booking from anywhere with just a few clicks!
Book Bounce Houses in Raceland for Every Type of Party
Our bounce houses in Raceland are perfect for any occasion! If you are celebrating a birthday, having an exciting bouncer at the party keeps the kids entertained and busy. Children and adults alike will enjoy cutting loose and having some good old-fashioned fun. Holidays are a great time to rent a blow-up bounce house, as your friends and families get together and are ready to celebrate. Create memories at the family reunion and jump the day away in one of our affordable, safe, and entertaining bounce houses in Raceland.

Along with top-notch bounce houses for all events, we carry water slides, dunk tanks, and all other party essentials you need to help create lasting memories. We supply rentals for corporate events, picnics, and any family-friendly company gatherings. Church group events and celebrations love our space walk options and they take it to the next level of entertainment by having several at one event! Sometimes you just want to do something special for the young ones in your life, so take a regular ho-hum weekend and turn it into a festival-like event. We are ready to make it happen with the biggest and best selections in the area. No group is too big or too small, so call us today and book the exciting centerpiece for your next party!

#1 Selection of Bounce House Raceland Rental Options

Check out our selection of bounce house Raceland rental options. We're positive we have something for everyone! All of our bouncers are suitable for ages 1+. Here are a few of our exciting options for your next party:

Balloon Bounce House: Priced at $110.00, this red, blue, and yellow option is adorned with balloons on the front. Perfect for a birthday party or festive celebration! This one is great for taking photos of your big event and is enjoyed by kids of all ages.

Tropical Jumper: Priced at $110.00, this blue and purple inflatable features huge palm trees to greet you as you enter this fun unit. Kids can imagine walking right into a jungle!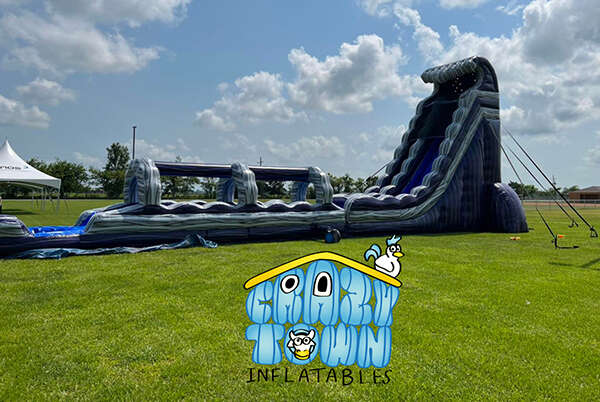 Marble Jumper: Priced at $110.00, this brightly colored unit has a full-screen front for high visibility, allowing parents to safely monitor what's happening inside the bounce house. Adorned with crowns on its top, this is a fun and unique option that will make any party brighter.

Adding any of these space walk rentals Raceland can't get enough of to your event creates instant fun and lasting memories!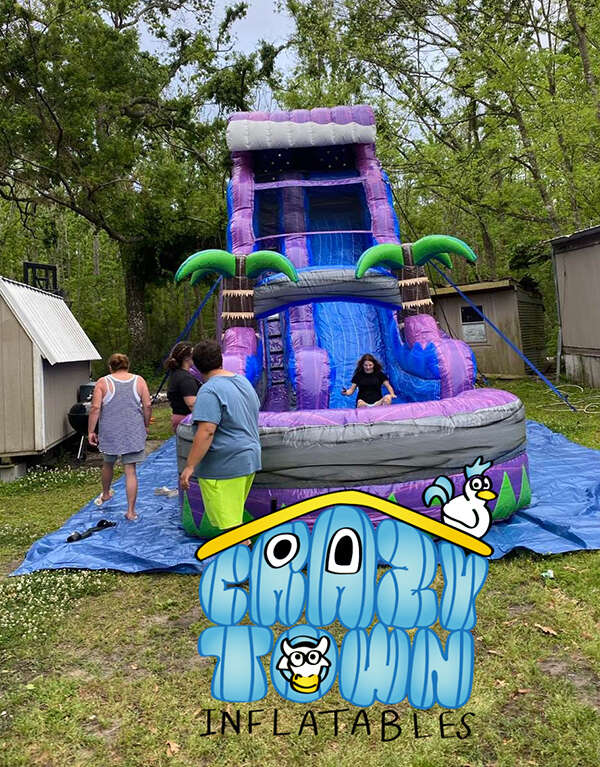 Spacewalks in Raceland for All Ages and Themes

Crazy Town has the inflatable spacewalks in Raceland that kids repeatedly ask to have for their parties and school events. Spacewalks, also called bounce houses, add up to big fun for you and your guests. Parents appreciate that our rentals inspire healthy activity that keeps kids busy for hours at a time and our bounce houses are a cost-effective way to keep large groups of children entertained on a budget.

Party planners searching for spacewalk rentals Raceland can trust have come to the right place with our durable and safe rentals that you can feel good about. Our options are great for ages 1+, and kids and adults of all ages love our jumpers. Take a look at a couple of options we currently offer:

Lucky Jumper: Priced at $110.00, this rental features a full-screen front so that parents can easily view inside the spacewalk in Raceland. Kids love its vibrant colors and castle-like ornaments. This is a great selection for photo ops and endless amounts of fun for all ages!

Party Jumper: Priced at $110.00, this brightly colored unit with a full-screen front for excellent visibility is an entertaining options for any party theme. Book this rental for birthdays, small business grand openings, company picnics, and so much more.

If you have any questions about our spacewalk rentals or which unit will make the best fit for your particular party needs, give our team a call at (985) 232-3691 to learn more about your options today!
Why Choose Us for Your Bounce House Raceland Kids Love

We started the business with fun in mind and carry options for an inflatable bounce house Raceland enjoys for all occasions available to the area for every event. Crazy Town Inflatables brings the real value with superior space walk rentals and customer support that is responsive, knowledgeable, and trained. When you choose a trustworthy company that is fully licensed and insured, you don't worry about the equipment not showing up or breaking down in the middle of your party. Our selections for a bounce house Raceland can't get enough of are the top choice for area residents planning various gatherings for families, school districts, or corporate events by delivering the entertainment that keeps kids busy for hours on end. Our customers are priority #1 and are the reason we do what we do! Let us prove to you why we're the premier choice for party equipment rentals and why we've had to pleasure of being included in hundreds of celebrations throughout the years. Book your rental online today!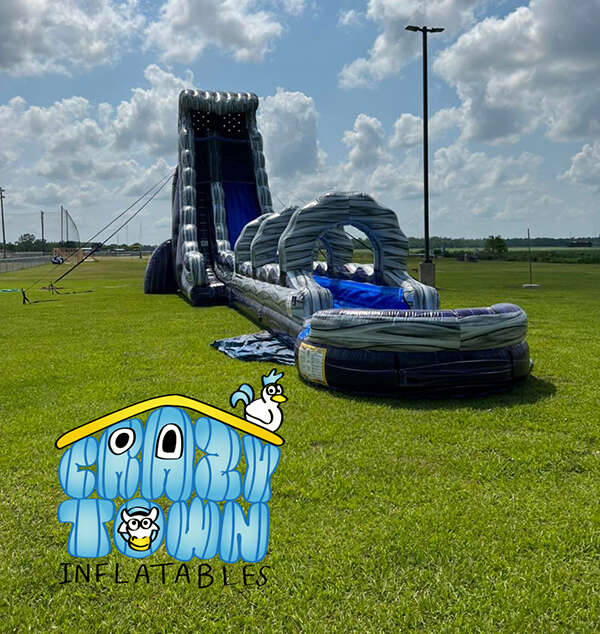 Crazy Town Inflatables is the most trusted supplier for exciting bounce house Raceland parents can trust their kids to have a super safe and exciting time with. We carry a range of fun and festive selections that suit any party theme, budget, or timeframe. Our bounce houses are top of the line and sourced from reputable manufacturers, so you can rest assured you're renting the best of the best from our team. Our rentals are commercial grade, durable, and made with fire-resistant and lead-free vinyl. You never have to worry about the condition of the space walk when it arrives at your party. We have a strict cleaning protocol we implement before and after each rental and we take pride in keeping the condition of our equipment looking brand new.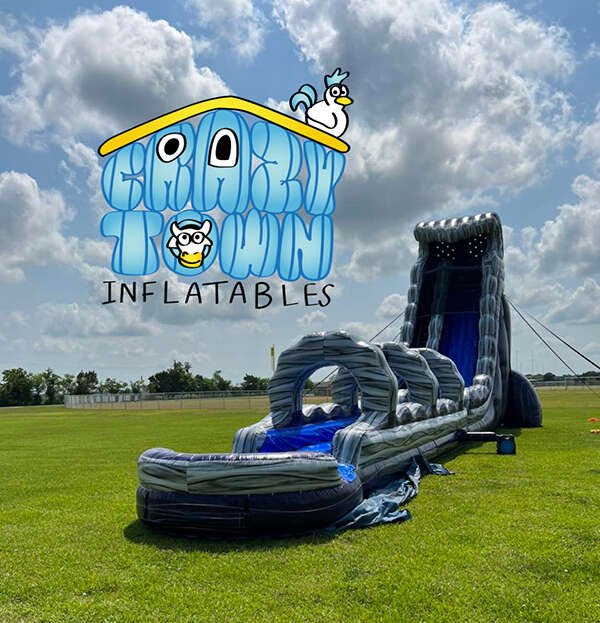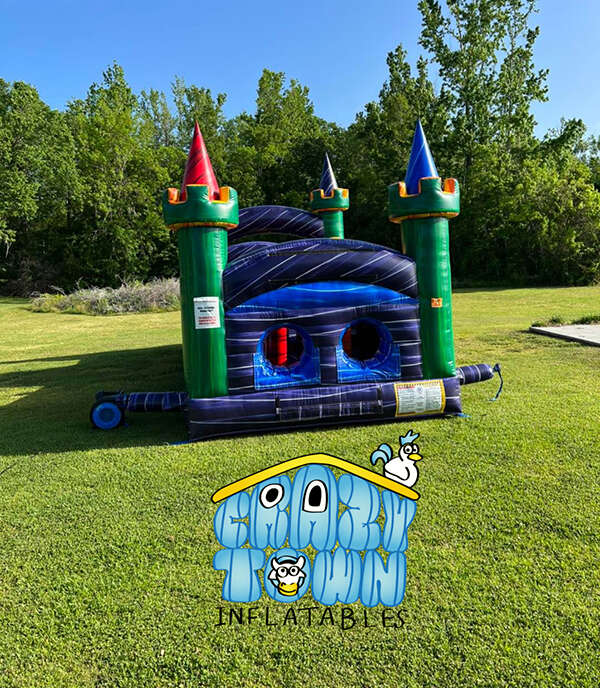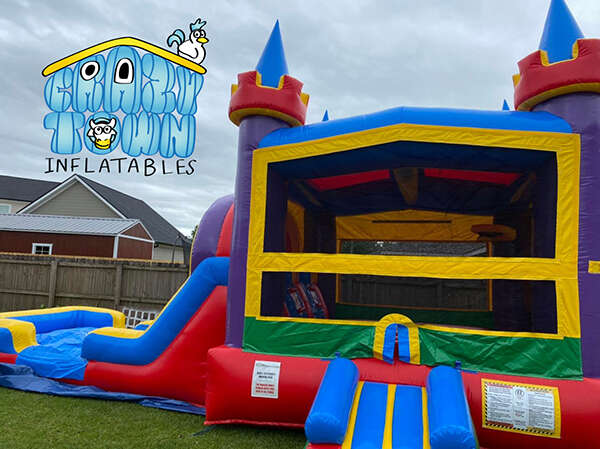 How to Book a Raceland Bounce House Online or Over the Phone

When it's time to book your Raceland bounce house, we make the process as simple and straightforward as possible, offering two convenient options for reserving your space walk rental today. Give us a call at (985) 232-3691 or use our online scheduling tool to book your rental anytime anywhere.

Browse our huge selection and book anytime 24/7 directly from your smartphone, tablet, or computer. Our secure and convenient online reservation system is a great way to view all of your options and schedule at a time that works best for you. Follow the steps below to book your rental through our website today:

Click the "Rentals" button in the menu bar then click "Bounce Houses." Check out our exciting lineup and choose the Raceland bounce house and party rentals that are perfect for your event.
Click the yellow "Add to Cart" button.
Using the calendar feature, choose the date of your party, as well as the start and end times.
Enter your contact and delivery information.
Submit payment using any major credit card.
You will receive a confirmation of your reservation via email and or text along with a digital copy of your receipt.

One of our team members will be in touch leading up to the day of your event to confirm a delivery window that works best for you. Do you have questions about our Raceland bounce house rentals or our policies? Feel free to call our friendly customer support team at (985) 232-3691 and we will make sure you are fully informed about our superior products and services.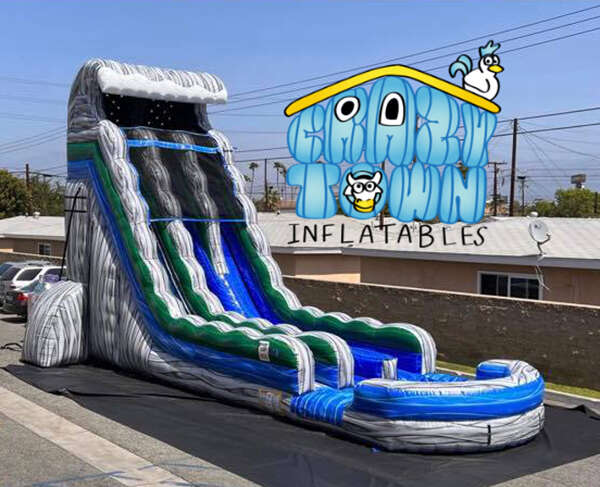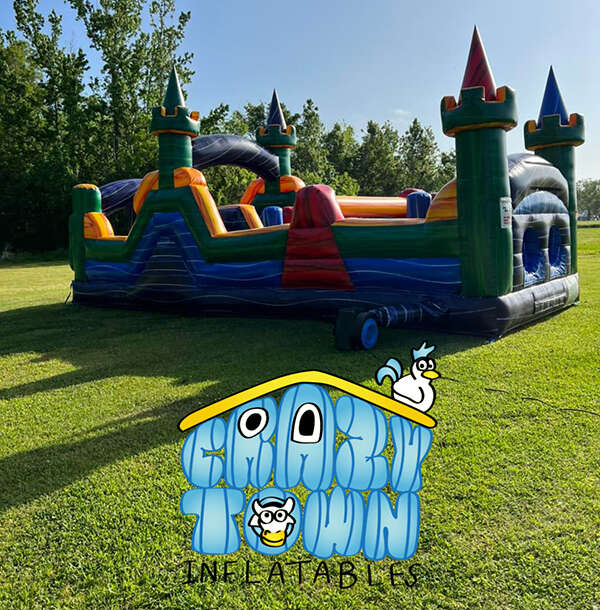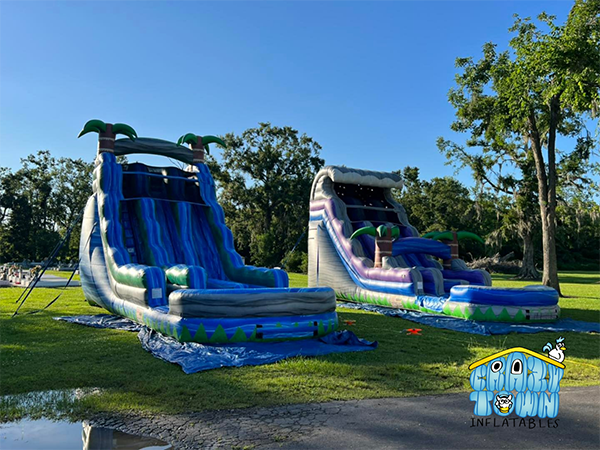 FAQs for our Bounce House in Raceland
Do you have questions about renting a bounce house in Raceland for your next party? If so, our team has the experience to answer all of your questions or concerns regarding our rentals. If you're not sure how much room you need for a bounce house or if you need to keep it plugged in, we can give you the information you need in no time! Just give us a call at (985) 232-3691 to go over your options with one of our staff members.

Take a look at a few FAQs from our customers about our bounce house in Raceland rental options and get in touch if you have particular questions about your event today!
Q.
Can inflatables be set up indoors?
A.
Indoor setup is just as quick and easy as outdoor setup. The units are inflated by cold air and there is no exhaust. The only consideration is that the height of the unit is less than the ceiling. A gymnasium, auditorium, or any other large venue would typically offer enough room for our spacewalks Raceland kiddos can't get enough of.
Q.
How many kids can be in the jumper at one time?
A.
As a rough average, there can be six to seven kids jumping together, but it really depends on the size of the children. Keeping the big kids separate from the little ones in the bouncer is an important safety tip and we always recommend adult supervision for toddlers and younger children using our perfectly safe space walk rentals in Raceland.
Q.
Are your bounce houses or spacewalks safe?
A.
YES! Your child's safety is our top priority. Our units are chosen for their safety features and are the best in the industry. Fully fire-retardant and made with lead-free vinyl, we're confident you'll have no qualms with letting your little ones enjoy our range of bounce house options. We tie our units down using appropriate stakes and or sandbags. To ensure everyone's safety, adult supervision is a must. Following a few simple rules will allow for a fun and safe time for all!
Delivering Fun All Over with Bounce House Rentals in Raceland
Fun and festive bounce house rentals in Raceland from Crazy Town Inflatables are the center of attention at any party or event. We have been delivering our rentals to the area for years, and have countless stories of success from our customers who can't get enough of ourthrilling bounce houses paired with our outstanding customer support.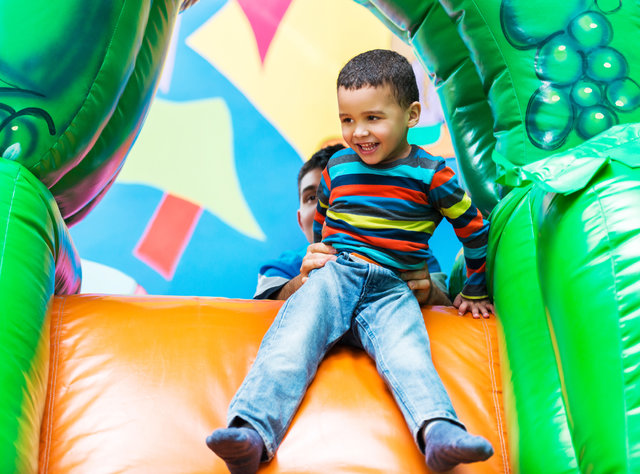 We offer our services in
Houma
in Terrebonne Parish, and Thibodaux and Raceland in Lafourche Parish. We're happy to offer delivery and set up to the 70394 zip code. Our free delivery includes a 35-mile radius around Raceland, LA, but if your event is outside this area, give us a call and we can get you a quote for delivery to your site.
Our customers enjoy taking advantage of our beautiful city and setting up our Raceland LA bounce house rental selections at local parks, such as Public Park, Lockport Bayouside Park, or Park's Bait. Our party pros will advise you about setting up in a public area, such as the need for a generator to power the inflatable. Local school districts have great success with their field days and holiday celebrations by including our jumper rentals. We've partnered with Lafourche Parish School District to provide entertainment for hours on end! We deliver the fun to small businesses, residents, churches, daycare facilities, and any individual throwing a memorable event. Book bounce house rentals in Raceland and you're well on the way to a successful party!
The Bounce House Rental Raceland Customers Rate 5 Stars!
We're thankful to have been part of hundreds of special celebrations by providing the best bounce house rental Raceland has to offer throughout the years. Party planners and their guests rave about the exciting bounce house selections from Crazy Town Inflatables. We have no doubts our sizes and themes will be a great fit for any occasion and our professional crew will set it all up for you, allowing you to enjoy your event just as much as your guests.

Take a look at what a few of our happy customers have to say about their experience with the space walk Raceland, LA kids AND adults enjoy year-round and get in touch with us to reserve your rental today!
"Great business, great prices, great customer service! The guys were very responsive, helpful, and punctual. We rented a water slide and it was great, especially the extra day! From now on, Crazytown Inflatables has all of our business."
-C. Parker
"This company is absolutely AMAZINGGGG!!! So kind and thoughtful. Very clean! We will never order a slide from anyone else! They have been such a blessing to our family and friends this weekend!"
-S. Lirette
"Excellent customer service! The slides are awesome! Def renting from y'all again! And will recommend to everyone I see!"
-J. Lapeyrousen